British Columbia 2019 - The Holy Grail of Steelhead & Salmon
Dear Salmon Junkies
I hope your fishing season have been awarding with bags full of good fishing memories from the past season and maybe some new friendships, with brothers stung by the same bug like the rest of us – The notorious "anadromous bug".
This time of the year it's also high time to look ahead and secure your fishing trips for 2019. To hopefully make your planning a bit easier, I'm pleased again to offer THE prime weeks for all of my weeks with our long-term BC partner - award-winning Skeena outfitter Nicholas Dean Outdoor. Join us chasing the largest and meanest Steelhead and Chinook in the world, in the company of some of the best and most hardcore fishing guides available on Skeena – Guides who are more than willing to share their deepest secrets by leading YOU to the fish.
Skeena Spring: Super-sized and rough Steelhead
Countless of people now at days believe that the Skeena watershed is easily accessible with easy-going fishing, but that is not true if you really want to get to the fish. Many of the best rivers and spots are impossible to access without a guide and special license, and the only way to get there is by powerful jet boats and local knowledge.
Some of the most attractive rivers are licensed with limited access. Salmon Junkies has access to all classified water plus well-selected numbers of coastal rivers. Skeena river has become quite a popular destination for a growing group of international hardcore Spey Jedi´s, and even more so after we launched our short movies during the last years – If you haven't seen them, watch some of our films check out the links here and below http://salmonjunkies.com/…/skeena-the-biggest-and-meanest-…/
Available Spring weeks 2019 - 6 days fishing / 7 Nights accommodation at Pioneer lodge
24 March to 31 March
31 March to 7 April
7 April to 14 April

"Seven rivers" – Our Highly Exclusive Remote Coastal Steelhead Program
The ultimate trip for the profound and committed Steelheader who likes a bit of sweat with their Steelhead. During 5 days you will daily discover premium fly-fishing Steelhead water with numerous holding pools in the most stunning scenery with an abundance of wildlife ever present. If the idea of going on a wilderness adventure to target large, wild Steelhead in remote areas on lightly fished streams gets your blood racing, then our new remote coastal Steelhead package is what you're looking for.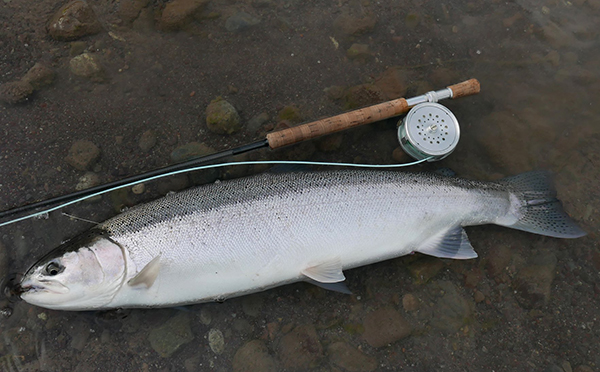 The remote coastal wilderness Steelhead streams of British Columbia hold exceptional spring Steelhead opportunities located in the stunning fjords of the Great Bear Rainforest. There are numerous streams – accessed by walk in, ocean boat, fixed wing air craft and helicopter – that vary from medium sized rivers best suited for swinging flies with a Spey rod to small, intimate streams where you can sight fish for 5 to 20 pound Steelhead and fish for them with a light switch or single handed rod.

Guests will stay at Pioneer Fishing Lodge as a home base for arrival days and departure nights, and then stay in remote camps or bed and breakfasts as required during the week, depending on weather, water conditions and which rivers are fishing best.

Getting to the various coastal rivers is half the experience in its own right! Depending on the target rivers fished, we will use a 21 ft Boston Whaler, 20 ft Harbercraft jet boat.
Given the remote nature of the trip, there is the possibility of encountering bears, wolves, foxes and other animals of the furry kind. Your guide will have bear spray and bear bangers on hand at all times and will also instruct you on how to use these.
For the 2019 season, space will be limited to two guests per week in the following weeks:
April 14 to 21 April
April 21 to 28 April
April 28 to 5 May
Fitness Requirements: Due to the remote, physically demanding nature of the fishing program, guests must be reasonably fit and capable of hiking through dense woods without any trails. Typical distances travelled daily are between 3 and 6 km.

With this new program we strongly believe that we have tailored THE ULTIMATE STEELHEAD TRIP for our guests who are looking for the unspoilt nature and abundant wildlife that contributes to an unforgettable fishing experience. Jump on our new wagon that will lead you to some of the world's most beautiful and pristine Steelhead rivers.

Chinook Fishing - Definitely a game not for the fainthearted
We are very excited to announce that Salmon Junkies prime weeks for big Fresh Chinook again are open for booking. We target the Kitimat, and potentially other coastal rivers, depending on conditions for Chinook averaging 20 to 50 pounds and ranging up to 80 pounds, and beyond.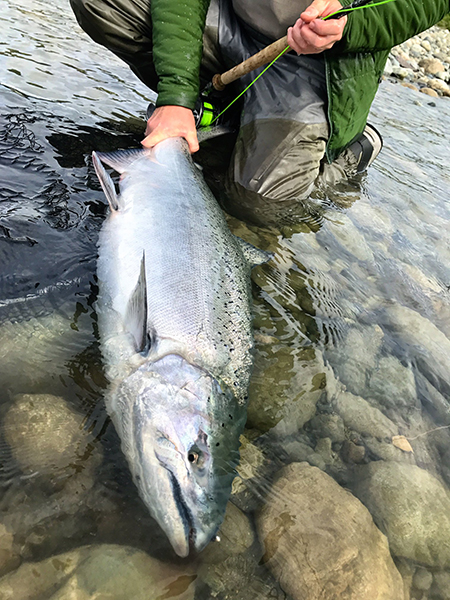 (The Skeena's biggest have been known to reach 100 pounds!) If you want to pursue the biggest, baddest of all anadromous fish on a swung fly, this is the trip! What to expect? Chinook - Why not watch our small movie and judge for yourself? http://www.salmonjunkies.com/…/chinook-the-heavy-weight-ba…/ Or our latest film "Sealiced" https://vimeo.com/150911538
Prime Chinook Weeks for the really big and fresh Chinook - 6 days fishing / 7 Nights accommodation at the Pioneer lodge
June 16 to 23 July
July 23 to 30 July
July 30 to 7 July
July 7 to 17July

BANG FOR THE BUCK! Our NEW Skeena Max Program - Summer Steelhead & Salmon
A new program: Maximize swing time on the famous mainstem Skeena for the biggest steelhead on the planet — 20-pounders headed for the Babine and Sustut, 25-pounders headed for the Kispiox; most of these majestic fish migrate through the lower river in mid-August. Hook one and you'll never forget it. The Skeena in summer is an anadromous fish superhighway; alongside the steelhead can be — depending on run timing — cartwheeling coho, huge chinook, tackle-busting chums, acrobatic sockeye and fiesty pinks — all full of fight and responsive to the fly. Each hookup holds an exciting element of surprise.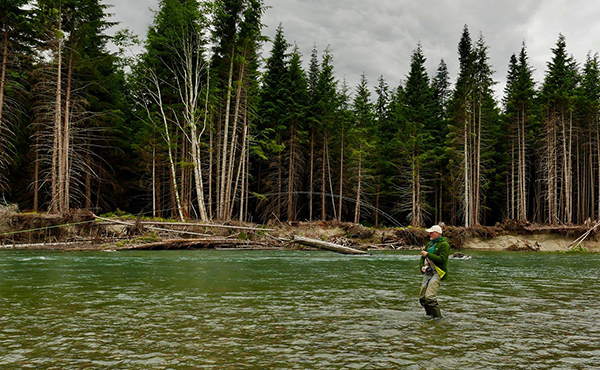 Clean, comfortable accommodations at Hidden Acres Farm & Treehouse Resort. Target rivers: Mainstem Skeena. Group size: 6 anglers. Date: August 25 to 1 September 2019 rate: 4330 CAD + GST. Includes: 6 days guided fishing, 7 nights double-occupancy cabin accommodations, all meals, airport pickup/dropoff

Skeena Fall
Fall Steelhead: Looking for the quintessential British Columbia angling experience? If so, this is your great chance. You will fish a number of wild rivers, with a opportunity to fish the remote and intimate upper Copper, a true steelhead Mecca. We'll swing wet flies and, with favorable conditions, fish dries. Fall-run Skeena steelhead is free-rising and will readily pounce on a waking fly — undoubtedly one of the greatest thrills in fly fishing. This adventure also features the exciting opportunity to fish select lower Skeena streams. And – depending on flows, the scenic Kasiks, Exchamsiks and Exstew.

Steelhead fishing on the Lower Skeena is unparalleled. Renowned rivers such as the Babine, Kispiox, Sustut, Bulkley, Morice, Copper and Kalum enter the Skeena above our camp and all fish bound for these rivers must pass directly in front of us before reaching their spawning grounds. Only a day or two out of the ocean, at the peak of their size, strength and beauty, these are among the biggest and most aggressive Salmon and Steelhead on Earth. To hook one of these fish on the fly is to touch the heart of the true wilderness — an experience not to be forgotten!
Available Fall weeks 2019 - 6 days fishing / 7 Nights accommodation at the Pioneer lodge
August 25 to 1 September
September 1 to 8 September
September 8 to 15 September
September 15 to 22 September
September 22 to 29 September
September 29 to 6 October
Besides having the hottest, strongest Steelhead and Chinook in the world, there is so much more that define the total fishing experience to this unique frontiers – Jump on the "Skeena Wagon" and get a kick you never will forget.
Hooked or just "chasing the fly"? in any event, please contact Steffen Juhl Denne e-mail adresse bliver beskyttet mod spambots. Du skal have JavaScript aktiveret for at vise den. for more information / Bookings…
Please check also www.salmonjunkies.com for more info, videos and photos.

Steffen Juul
Salmon Junkies