Fishing Report, September 13, 2018
The IF4 Fly Fishing Film Festival is hitting Smithers 7pm on September 29th at Boston Pizza. The evening is sponsored by Skeena Angling Guides Association (SAGA). SAGA is a great local organization of guides that have been working on conservation programs and enhancing sport fishing in BC for over the last 30 years. Tickets $20 at Hetherington and Hooper, McBike & Sport, and Oscars Fly & Tackle.
Other upcoming events are: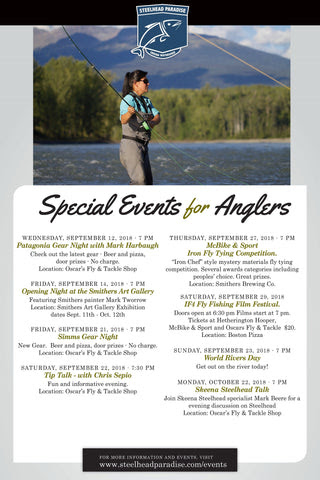 Simms Gear Night
Friday September 21, 2018 @ 7 PM
Beer, pizza and door prizes at Oscar's Fly and Tackle Shop.
Tip Talk – with Chris Sepio
Saturday September 22, 2018 @ 7:30 PM
Fun and informative evening at Oscar's Fly and Tackle Shop.
Skeena Steelhead Talk
Monday October 22, 2018 @ 7 PM
Steelhead specialist Mark Beere hosts a discussion on Steelheading at Oscar's Fly and Tackle Shop.

RIVER FISHING REPORT
BULKLEY RIVER:
The Bulkley River remains extremely low despite the rain we have had in the last week. There is colder weather forecasted for the rest of the week, but unfortunately will not help with the water levels of the river.
Steelhead fishing has been tough this week for most. Some fish caught in the lower Bulkley and the confluence area of the Telkwa and Bulkley. The fish seems to be pulsating through the system these days with irregularity.
MORICE RIVER:
This river currently is in good shape and colour, but has similarly low water levels. Steelhead fishing has been spotty just like the Bulkley.
KISPIOX RIVER:
Don't try to float the Kispiox. It is extremely low and is extremely dangerous at these water levels.
Reports of a few fish have been caught lower down on the Kispiox, but with the low water we feel that it is limiting the entry of fish into the system. A bump in water would bring more fish in for sure.
SKEENA RIVER:
Mainstem Skeena has been slow for most people in the Terrace area. Lots of people are spotted to be working the river between the Copper River confluence and Usk. Up in the Hazelton area, the Skeena is a bit coloured, but with colder nights ahead, this should help clear this up quickly.
Please note that sockeye retention ends on this Saturday, September 15 for the Skeena.