Oscar's Fish Tip of the Week
Warm temperatures and dry conditions over the past month have resulted in higher water temperatures in many rivers. High water temperatures cause extreme stress to fish and may result in higher rates of mortality following catch and release. We encourage all anglers practicing catch and release fishing to limit your fishing to the morning and early afternoon (before 2pm) when water temperatures are cooler.
In addition, please remember to keep your fish in the water during handling and release, as air exposure will harm fish even more at higher temperatures. Thank you for your help as we wait for cooler temperatures.
For more information and tips on great fish handling practices, check out KeepEmWet Fishing.
RIVER FISHING REPORT
Bulkley River:
Similar to last week, the Bulkley River is low and the overall visibility is good. The clean teal colour water is nice to see, especially when the fish are rising through the system.
Steelhead fishing throughout the Bulkley has been really good this week. Some nice Steelhead with some girth has been caught around Smithers.
As for salmon, the fish are moving through, so don't despair if you have had a bad day! Coho and pink salmon fishing has been challenging for most and initial numbers running through Moricetown Canyon are on the low side. We are hopeful that they will pick up within the week or two. A few Coho have been caught in the Trout Creek and Moricetown area. Try using jigs if spoons and spinners are not producing.
Morice River:
The river right now is in beautiful shape with clean flow, just a little on the low side like all rivers in the area. Some steelhead and Coho have been caught this past week. Hope for both numbers to continue to pick up as we transition from August to September.
When heading to this area, please check with the BC Wildfire Service website to make sure your secret spot is not in the line of wildfire danger.
Kispiox River:
If there is a river in the area that could use rain, it is this river. The Kispiox is extremely low right now, on the dangerous side for both anglers and the fish. With extremely low waters, the fish are under stress from warmer than normal water temperatures. Because of lower than usual flow and higher than normal water temperatures take extra care when handling fish and avoid fishing in the afternoon.
As stated last week, this river is only open for steelhead fishing (no salmon fishing as per the DFO Notice). Numbers are low for both steelhead and salmon entering the Kispiox. Unless we get rain soon, the river might be very challenging to fish this year due to the low waters and high temperatures.
Skeena River:
The Skeena is in great shape right now with clear teal colour and a meandering flow. Ferry Island in Terrace seems to be the place to be these days where anglers are doing the salmon waltz. Right now (late August-early September) is historically a great time to fish the Skeena. You just never know what you may hook: sockeye, Coho, pink, steelhead!
Copper River:
The Copper is still running a little murky, but that isn't stopping either the anglers or steelhead. Fishing has been good around the river. The Copper is worth a visit if down in the Terrace area.
Babine River:
Still closed for salmon fishing, however steelhead fishing is open! Please note that the roads to Babine River might be closed because of a number of forest fires in that area. Check with BC Wildfire Service website prior to driving out to the area for up-to-date closure information.
Babine Lake:
Sockeye fishing has been ok on the lake. Again please pay attention to any road closures due to forest fires and check the BC Wildfire Service website before venturing out.
OCEAN FISHING REPORT
Well the summer is winding to a close, but that does not mean the fishing has to end! Things have been looking pretty decent on the coast over the past week. We've had some pretty wet days, but that hasn't stopped the fish from biting. Most of the chinook have made their way south by now, but those high flying Coho are still around for any anglers that are still looking for some fun.
The DFO just announced that halibut fishing will remain open until September 27th at the earliest. This is the date that they are having another meeting to discuss whether or not the TAC (total allowable catch) has been reached or is close to being reached.
At this point they could potentially shut down the halibut fishery for the year but let's cross that bridge when we come to it. For now let's just get out on the water and enjoy the last few opportunities we have before the long cold winter sets in.
Prince Rupert has been fishing well over the last week. I have had reports of good halibut and ling fishing, as well as, anglers getting their limits of Coho. The coyote 4.0 in the live image or cop car finish have been winners this week with a lot of 8-12lb Coho brought in.
We have seen the odd Northern Coho showing up. These fish can get into the 20lb+ range and you'll never forget hooking one. It's like fighting an acrobatic chinook and hooking one will leave your arms sore and wanting more.
Douglas channel have been producing lots of Coho this past week. We are still seeing the odd chinook on the outer banks of the channel, but most of them have moved south to spawn. Over the past week we have seen really good action around Money Point and Turtle Point.
Fishing over top of where the Queen of the North went down can be very productive as well. An anchovy or cut plug is always my go-to when starting to troll down the Douglas until I can figure out what the fish are to key in on. If you find that you are getting hit on a cut plug, put on a larger spoon in the 5-6inch range.
If they are hitting the anchovy when put something a little smaller on. If they don't like what you're offering, switch it up! I typically keep roughly 20-30 different spoons in assorted sizes and colors in the box. You never know what's going to be hot at any given time.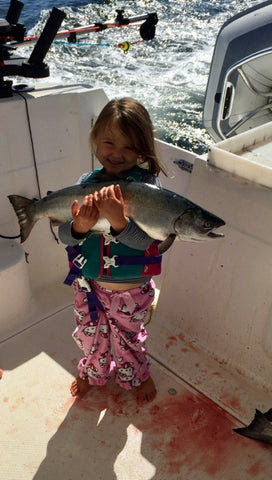 Crabbing and prawning remains good on the coast. We are seeing some good size prawns lately and hope this continues through September.
We are back on the water this weekend as I hope many of you are. This will be one of the last weekends for many anglers so hopefully you make it a good one.
Until next time........tight lines.