SALTWATER FISHING REPORT
Submitted by Lee Mac
Things have been a little rough out on the coast this past week. I'm not talking about the weather, of course as it has been fantastic! I'm unfortunately talking about the salmon fishing. We have had a few reports that the Coho fishing has been a little slow with some boats only getting one or two fish in a day. The bright side of this is that they are bound to show up sometime! Hopefully with a little cooler temperatures expected this week we hope to see the big numbers of fish roll in.
When fishing out of Prince Rupert, try fishing around the north end of Stephens Island or Cutter Rocks off the south end of Melville Island. Edye Pass can be very good for Coho this time of year, as can Humpback Bay if you are launching out of Port Ed.
Out of Kitimat, down the Douglas Channel, the south end of the Sue Channel can be very good. For those looking to stay close to home you can troll around right in front of the marina and pick up Coho this time of year. If you're up for more of a run down the channel, Money Point is always my first stop. It can be very hit of miss so if nothing is happening then I continue on to Turtle Point. You can also fish for Halibut off Turtle Point, it as a good spot to be when approaching slack tide. Oscars has a great selection of spoons and flashers to set you up for your next salmon outing.
Halibut fishing has remained good coast wide. The flat calm seas over the past week have allowed for some offshore ventures and we've seen some really nice halibut boated.
Until next week.......tight lines. Hope to see you on the water.

RIVER FISHING REPORT
Finally! Finally! Finally! We hear the news that we have been waiting for (kind of) on August 3rd with the DFO Fishing Notices FN717, FN703 and FN702. The rivers are opening or are open, even though there are some tight timelines, strict daily limits and limited salmon (no chinooks or chum, period). Still, even with the limitations, we can still get out on some water to fish for salmon.
In short, the Skeena River mainstream waters is open for pinks, sockeye and Coho fishing (see details in the three listed notices above). Skeena River tributaries or sections of those tributaries not mentioned in FN717 will remain 'No fishing for salmon'. Currently fishing on the Skeena for sockeye has been good with some good sizes coming through.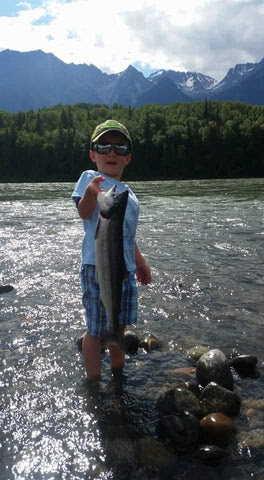 For the locals, the Bulkley River will open up on August 15th to October 15th for four (4) Coho per day. You will be able to angle for pinks from August 15th to December 31st of this year. All other recreational and retention salmon fishing remains closed at this juncture.
The Telkwa River (downstream of Howson Creek) also opens August 15th to October 15th for Coho fishing only with the daily retention limit at four (4) per day.
The Morice River will be open for pinks August 15th to August 31st (2 pinks per day) and for Coho August 15th to October 15th (4 Cohos per day).
Full details about the openings and limitations can be found on the following links FN717, FN703, FN702. Also you can come in and just talk to us. We can help explain all the rules and regulations so you can be confident in your catch!

LAKE FISHING REPORT
Summer doldrums have set in and the fishing has been fair. With the hot, sunny weather, the smaller lakes are feeling the oxygen squeeze and slowing down productivity ever so slightly. During these times it is best to hit the lakes in the early morning or in the evenings when the water temperature is cooler and helps the oxygen levels for the fish.
With the DFO's Fishery Notice 702 we see that effective immediately, the waters of the Skeena River Watershed is open for two (2) sockeye per day, which means that the waters of the Babine Lake is open also for sockeye. The notice FN702 does state that even though the Babine Lake is open, it does not including tributaries and excluding those waters within a 400 m radius of the following tributary streams: Morrison Creek, Six Mile Creek, Pierre Creek, Pendleton Creek, Hazelwood Creek, Twain Creek, Tachek Creek, Five Mile Creek, Four Mile Creek, Sockeye Creek, Big Loon Creek, Tsezakwa Creek, Pinkut Creek. Also closed east of a line from Gullwing Creek to the south shore of Babine Lake.
Still Babine Lake is open for sockeye fishing from now to September 15th, so come in to get the skinny on the best equipment to use to be successful.