Fishing Report, July 23, 2018
OCEAN FISHING REPORT
Submitted by Lee Mac
Fishing on our coast has had some very good moments over the past couple of weeks, but we have also seen some things to be concerned about. We have seen very good bottom fishing for halibut and ling cod. Unfortunately we have not seen the number of salmon that we would normally expect this time of year.
Typically we there would be a huge mass of Coho moving down our coast right now, but in speaking with guides out of Rupert, the fish are just not around. Many boats are running out for the day and returning with 1 and 2 fish. I'm hopeful that these fish are just late coming in this year and we will see them show up in the next week or so.
Salmon fishing out of Kitimat has been good. There seems to be lots of Coho around right now with a bunch of Chinook still mixed in. I spoke with one angler on Tuesday whose group had limited out on Coho and Chinook while fishing Money Point in the Douglas Channel.
While on the water we noticed that there seemed to be a lot of herring around in the 6-8 inch range. Every fish we cleaned had a belly fully of these baitfish so I would recommend trying a spoon that will closely resemble these herring. Lurh Jensen Coyote spoon 6.0 is a great choice.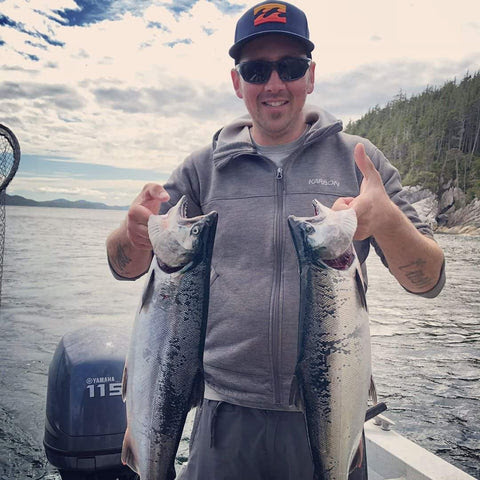 Bottom fishing has been fantastic of the past couple of weeks. Anglers have reported good size fish in the 100-115cm range. Last week we managed to drag up 4 fish on one tide with 2 of them coming on a green swimbait jig. Oscars has the Gibbs Power paddle which is a great option when fishing for halibut. Just drop one down to the bottom and reel up a couple of turns and it will swim in the current. Halibut just can't resist!
Crabbing and prawning remains good on the coast. When targeting crab, it's best to find some freshwater source and drop your crabs in 50-80ft of water. Crab seem to love hanging around these freshwater sources so any small river, or creek mouth with likely hold crab.
It's been a great couple of weeks on the water and we will hopefully see this continue through August. Head down to Oscars before your next trip and let them get you set up with the right gear to land whatever species you're going after.
Until next week........tight lines!