Fishing Report, June 14th, 2018

SALTWATER FISHING REPORT
Submitted by Lee Mac
Well the wind has calmed down a little and that has meant some great opportunities to fish on the coast! We are down to our last few days to harvest chinook out of Rupert (closes June 15th) so anglers have been getting out to try and fill their freezers before the closure.
We have seen some nice fish caught in Rupert over the past week with lots of fish in the high teens taken with a few in the high 20's being landed. There have been lots of anglers having success in the Edye Pass/Humpback Bay area using cut plug herring and spoons. We have also seen anglers getting into fish at Squatarie where a flasher and hoochie has been working well.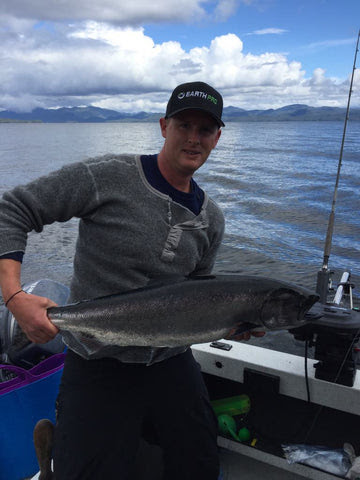 Salmon fishing down the Douglas channel has been good with lots of fish hooked in the Money point area. We were there this past weekend and saw lots of bait in the area, but only fished it quickly as we needed to get fuel in Hartley Bay before they closed. Unfortunately on our way back the wind had come up and the fishing was tough in a 5ft chop.
Halibut fishing in Rupert has been very consistent (weather permitting) and we have seen lots of anglers have success of the past week. Mudraker Jigs have been working well and so have Norweigan jigs. When anchoring for halibut, a spreader bar with a hoochie setup has been working great and we have seen a lot of slot size fish landed on this setup.
Halibut fishing in the Douglas was a little tough over the weekend, but the ling cod fishing definitely made up for it. We hooked and landed over a dozen ling in about an hour south of Otter Pass. Most were in the 20-30 lb range and were perfect for the table. All the fish either came on a P-line Jig or Gibbs swimtail jig. Both of these jigs are available at Oscars and I'd recommend having both on board before targeting ling cod.
Remember to look for rock pinnacles starting at, or near the surface and dropping off from there. Ling can be found anywhere from the surface to 300ft of water so make sure that you drift off the top of the pinnacle and work your way down the side. If possible, work all the way around the pinnacle before moving on.
One thing that is essential to have on board when targeting rockfish like ling is a descending device. Having one of these on board will assure that you can return non-target species back to the required depth with little harm to the fish. Oscars has a few different models in stock with the Seaquilizer being my device of choice.
Prawning and crabbing remain good in both Kitimat and Rupert. When targeting prawns and crab, I soak my bait in the Patzke crab and prawn brine to give it that extra bit of scent.
Make sure you stop be Oscars before your next salt trip and let the staff get you set up to have success on the water. Until next week.......tight lines.

LAKE FISHING REPORT
Submitted by Pierce Clegg
It's now a back and forth maybe once a week or so from the old Trout Lodge which Gill calls, "Trout Town." Old ax log cut log cabins, wooden boats (what's left of the original fleet), old cabin porches and the old ringer washers that still do the job of clean but crunchy towels and clothes. I never tire of the evening sunlight upon the old log structures, open water and biting fish.
The weather has changed from cold and windy back to the summer that hit us early on last month. With the change in weather (again), we have noticed the start of the dry fly season and it is setting up to be a good one. As the salmon fry and smolt season winds down it is now forcing the fish to seek the bugs on or near surface. Epoxy Minnows in brown and green are still working, but now would be a good time to make the transition over to the dry flies.
The water is still high here on Babine Lake and Rainbow Alley. As you can see from one of the photos that the young cottonwood trees sticking out of the lakeshore. A good season for keeping the props from turning into modern art, but keep your eyes out for the weir on the lower river.
That being said, come on out to experience the start of dry fly season here on Rainbow Alley. To the fly-fisher, it is one of the best times to throw a line!
FEATURED LAKE OF THE WEEK: KLINGER LAKE.
This week's featured lake is Klinger Lake which is about 15km west of Houston. This lake is an easy drive from Smithers, or even an easier if you are from the Houston area. To get there, off Highway-16, head south on the Morice Telkwa FSR, you will find Klinger Lake.
This lake supports a good population of Eastern Brook Trout and Rainbow Trout for the sport angler. Even though it is pretty shallow and small, the water-body packs a punch due to its stocking program by the Freshwater Fisheries Society of BC. This lake can be fished year round, but open water fishing is best during the spring and fall.
Klinger Lake can be fished successfully either by gear fishing or fly fishing. If using gear tackle, an ultralight rod, fast action would be best to be able to capture the trout tug. You can use lures like Blue Fox Vibrax, Mepps Little Wolf, Rublex Celta or Rapala Spotted Dog fishing lures.
For the fly, we would recommend doing some lakeside observations to "match the hatch". When matching the hatch, it will always be seasonal and lake specific, so put on your detective glasses and observe what insects you can find. During dry fly season, a good go-to is the Elk Hair Cadis, Adams or a Stimulator.
The fish also take subsurface on the fly pretty greedily on prince nymphs, copper Johns and an assortment of leeches. Come into the shop to talk to us about directions to Klinger Lake, flies, rods, fishing gear and tips for being successful on the open water. Tight lines!
For more information on gear fishing or fly fishing in BC, check out the Freshwater Fisheries Society of BC's YouTube page or their stocking report (click on the attached links).